This past week has seen a war of words between China and Japan. Though not an unfamiliar situation, China and Japan have been locked in a face-off over several issues and tension between them has risen significantly. Whilst the Senkaku/Diaoyu dispute continues to be a thorn in the side of political progress, friction between the two largest economies in Asia has become more intense. Increased Chinese naval and air force activity near Japanese waters has angered Japanese officials and resulted in defiant rhetoric towards China. Relations became more inflamed when Japan declared that any surveillance drones in Japanese territory will be shot down, if they do not immediately leave. China responded by saying that any shooting down of Chinese drones is an act of war.
The confrontational dialogue comes amid an aggressive pursuit of a new defense policy by Shinzo Abe based around action rather than than the idea of deterrence. The creation of a defensive attack force was built specifically to repel any foreign invasion of it's 'small islets'. If there were any questions over Abe's stance on defence, they have been answered this past week. Japan is feeling more and more confident acting on its own as a regional power, without the direct backing of the US. A recent meeting of the Japan-US Security Consultative Committee has resulted in a joint vision for Japan to bear more of the security burden that traditionally was the responsibility of the US. Abe has shown his enthusiasm to be the leader known for empowering Japan and being an enforcer of security in the Asia Pacific.
China's rapidly expanding military capabilities means that they are able to project their power further and further away from the shoreline, resulting in increased proximity between Japanese and Chinese militaries. After recent success in engaging its Asian neighbors diplomatically, China has come out confidently about economic and political cooperation with ASEAN. Including the APEC summit and meetings with ASEAN heads of state, China capitalized on the canceled US trip to Asia, and Abe has realized he must take the lead in any inter-Asian containment of China.
The culmination of several security issues and changing trends in inter-Asian relations have put China and Japan in a particularly rough stretch of relations recently. Though China and Japan have been through cycles of aggressive or overly defensive behavior towards each other, it appears that past trends have not dulled the seriousness of the situation. The decreasing role of the US in acting as a stabilizing factor in relations, as well as China and Japan's increased desire to act on national interests, means that bilateral relations could be entering an even more fragile state. Whilst Japan tries to redefine it's desired role of defender of security in East Asia, China will continue to engage the region diplomatically and push outwards militarily.
It is in this context that any military mishap could potentially plunge China and Japan into an unpredictable conflict. The PLA and Japanese Navies are constantly within arms reach of each other. Recent run-ins between rival air forces have added a new dynamic to the situation, as Japan has consistently scrambled fighter jets to deal with close-flying Chinese air craft. When the security of the region rests solely in the hands of rival military officials who historically detest each other, the risk of accidental conflict is higher than ever. Fate favors the prepared, and China and Japan need to seriously engage in strategic defence talks to ensure that their people do not unnecessarily suffer from a pilot or sailor accidentally crossing an invisible line.
This article was also published on www.asiapacificsecurity.com (@AsiaPacificSec)
Find more articles by Peter here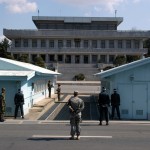 Is a change in the US's North Korea policy overdue?
North Korea presents difficult challenges for US foreign policy. The six-party talks which attempted to put a stop to North Korea's nuclear programs, and involved major players in the region, …
Related articles in the categories Asia and Australasia, Warfare