India is currently holding its general election, which began on 7 April and will end on 12 May. With eight hundred and fifteen million eligible voters, the ongoing elections are the biggest in history. It is estimated that 96% of India's electorate have placed the fight against institutionalised corruption as the highest priority for these elections. Institutionalised corruption describes how some societies view corruption as 'a way of life', which has resulted in corruption to be 'perennially extensive' in Indian society and democracy.
Since Anna Hazare's 2011 anti-corruption protest, there has been a growing anti-corruption movement against India's governing elite, especially the Congress. It is estimated that 54% of Indian officials took bribes of between $4 and $12 billion during the current tenure. Thus the leading candidates – Narenda Modi, Rahul Ghandi and Arvind Kejriwal – will effectively need to overhaul India's democratic system to stamp out corruption.
A democracy that fosters corruption
In order to unpack why corruption is so perennially extensive in India, we must analyse India's democratic system which is built directly on India's rigid society, supplanted by a hierarchical caste system across 35 states and territories.  
The number of seats in the Congress correlates with the population of the states. India's largest populated states, i.e. Bihar, Madhya Pradesh, Rajasthan and Uttar Pradesh (BIMARU), are also India's poorest. Each of these states is represented by a vast array of political parties that criss-cross national politics in the form of religion, class, linguistic abilities and caste. Examples of parties dominating a single state include the Bharatiya Janata Party (BJP or religious nationalism) in Lok Sabha; the Lok Dal (Caste and Class) in Uttar Pradesh;  the Jharkhand Mukti Morcha (Tribes) in Jharkhand, and Orissa;  the Tamil Dravida parties (Cultural identity) in Tamil Nadu; and Shiv Sena (Nativism) in Maharashtra .
Without the support of these state governments, coalitions cannot be formed and legislation cannot be passed at federal level. To avoid political deadlocks, the federal government is required to fill the pockets of state government, e.g. by paying for hefty subsidised infrastructure projects. Such a process often exacerbates both inter-party and intra-party factionalism and inadvertently legitimises corruption – from the upper echelons of power to India's bureaucratic regime.
Bureaucratic corruption and the demise of Congress
Red tape that stems from 'layers of bureaucracy' and corrupt links between the government and big business has cost the treasury billions of dollars.Examples include the 2012 coal mining controversy and the Augsta Westland Chopper deal last year.  As a result, Raghuram Rajan, governor of the Reserve Bank of India, claims that "too many people have got rich based on their proximity to power".  Due to riches brought from these corrupt deals, poor voters have been partaking in corruption. A wikileaks cable accessed by the Hindu conveyed how bribes from political parties to voters in South India take place in the form of cash, goods, services and possibly intimidation. Votes from the poor in particular can be bought for as little as 3,000 rupees ($55).
It does not come as a surprise that corruption has led to Indians being disillusioned with Congress. Along with corruption, discontent at Congress also stems from the party's inability to resolve environmental degradation; to stem the Maoist insurgency; and to revive a stagnant economy. Moreover, Rahul Ghandi – the chosen prime minister candidate by the Congress – has been criticised for his lack of political skills. This became particularly evident by his inability to name party workers under his banner and by his absence in the public domain. The combination of these factors have signalled the end of the Nehru-Ghandi dynasty as a new generation of Indian voters – the 'floating middle class' – , now vote on electoral promises rather than party affiliations. This is evident as Congress has been stumped in state elections by emerging rivals- the BJP party in Mahhya Pradesh and Rajasthan, and the Aam Aadmi Party (AAP) in Delhi. The floating middle class have also been increasingly targeted through new branding campaigns. Hence, to capture the hearts and minds of Indian voters, Congress's rivals are rumoured to have spent $5 billion on marketing campaigns.
Narenda Modi and his resurgent BJP
Utilising television coverage, charismatic rallies, and social media – Modi has become the favourite for this year's election. Modi has shaped himself to be a candidate that India craves by establishing a 'personality cult'. The victories for the BJP in Mahhya Pradesh and Rajasthan reinforce this claim.   In addition, the Modi brand has been tactfully constructed to tackle corruption and fostered on the economic growth he achieved as  minister of Gujarat. Under his shrewd leadership, Narenda Modi used a mixture of economic liberalisation and business incentives to transform Gujarat into India's growth engine. Yet, despite his achievements, Gujarat still suffers from chronic energy blackouts; inequality; and the stained legacy of the 2002 riots.
However, the massacres of Muslims and Hindus, in addition to the rapes of many women in 2002, have left a blood stain on Narenda Modi's reputation. Though Hindus make up 80 percent of India's population, India's constitution demands it to remain secular and represent its kaleidoscope of religious diversity. Thus for Thane Richard, electing Mr Modi would mean Indian voters are choosing prosperity over human rights as it would allow Mr Modi to carry out his nationalist and hawkish conservative agenda to transform India to a Hindu state.
Under his watch, Modi was accused of allowing the riots to transcend in Gujarat. Despite being cleared by the India Supreme Court, his refusal to atone for the atrocities dented Modi's reputation both home and abroad. He is barred from entering the US, and EU member states bar Germany and the U.K. This situation will inevitably diminish his stature in international forums including the G20 and the UN. Despite being painted as a bullish leader, Narenda Modi will face a daunting task to enchant others over Indian matters. This stems from his human rights records and the fact he is a known loner in the corridors of power. Back home, these factors may hinder his ability to shackle civil servants and mitigate institutionalised corruption in India. If he cannot achieve this aim, then Narenda Modi and the BJP could be usurped by the rise of Arvind Kejriwal and his party for the common man.
A False Dawn – The rise and fall of the AAP
The rise of the AAP and its founder Arvind Kejriwal represented a breath of fresh air to India's democracy. Kejriwal founded the AAP (or Common Man's Party) in 2011 to represent overlapping interests of different groups frustrated with India's corrupt system. Since then, the AAP grew in strength and seemed to have been on their way for a successful general election. The December 2013 state election victory in Delhi was historical, as it was the first time that a grassroots party has challenged the political cartel of Congress and the BJP. The APP won 28 out of the 72 assembly seats and formed a coalition with Congress.  A remarkable feat given that the party has formed nine months prior to the elections.
Nevertheless, the AAP's momentum was cut short after the impulsive decision by Mr Kerjiwal to resign as Delhi Chief's Minister. The result has left a communication gap between the party and its supporters. Despite its sole agenda on corruption, the result has left the party to trail both the resurgent BJP and stagnating INC in third. The party did also miss to convey how it planned to address other issues apart from corruption. Thus, Arvind Kejriwal's rashness could result in the AAP having to wait for a future general election to tackle corruption in India.
For the time being, it can be said that whoever is elected in May will come to power facing numerous challenges to eradicate India's institutionalised corruption.  Present and past indicators show that the general elections will bring the BJP party and Narenda Modi to the fore at the expense of Congress and the APP.  Only time will tell whether Modi or any other political leader can overcome India's chaotic governance and stamp out institutionalised corruption.
More articles in the categories Asia and Australasia, BRICS, Democracy
Also by Akash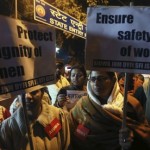 India's election and the need to empower women
For India, 2013 was a year in the limelight of the global media. Cases of brutal rape were widely reported in India and across the world. 'The insecurity of women, …