South Africa has lost its father and the world has lost a hero. Nelson Mandela, aged 95, has passed away. His legacy transcends his country and era and is worth of being praised as heroic. After having fought against suppression for decades, Mandela will serve as a prime example for the notion of forgiveness and reconciliation for decades maybe even centuries to come as his struggle for freedom and democracy gained recognition on a level which is second to none.
Mandela, born in Transkei in 1918, in a country deeply divided presented a degree of bravery, endurance and, most importantly, self-sacrifice that can only be admired.
The virtue of forgiveness and clemency were pivotal to Mandela's beliefs, whilst he was convinced that hatred and revenge as response to the cruelties of Apartheid would cause more harm than good.
In his memoir Mandela wrote:
'I always knew that deep down in every human heart, there is mercy and generosity'

'No one is born hating another person because of the colour of his skin, or his background, or his religion. People must learn to hate, and if they can learn to hate, they can be taught to love, for love comes more naturally to the human heart than its opposite'.
Mandela recognised at an early stage that he wanted to improve the lives of his fellow black South Africans. After taking part in a protest at the University College of Fort Hare he was expelled. In the years to come Mandela's politically involvement increased and he joined the African National Congress in 1944. He supported the establishment of its Youth League and increased his influence in the ANC by leading the Defiance Campaign, joining the efforts of the ANC and the South African Indian Congress to campaign for civil disobedience. As a consequence, he and his fellows were sent to nine months hard labour, albeit the sentence was suspended. Later he established, together with Oliver Tambo, the first black law firm in South Africa. The following years were shaped by further arrests and after the Sharpeville Massacre in 1960, the ANC was banned.
Although believing in Ghandi's approaches to oppose suppression peacefully, in 1961 Mandela founded Umkhonto we Sizwe (Spear of the Nation), the armed wing of the African National Congress. His deviation from a peaceful path was rooted in the belief that the violent Apartheid regime could not be toppled by peaceful means after negotiations that had lasted several decades.
In 1963 Mandela and seven others who were accused of sabotage were sentenced to life imprisonment. The sentence was a major setback for the ANC, but Mandela did not give up hope.
"This is the struggle of the African people, inspired by their own suffering and experience. It is a struggle for the right to live. I have cherished the ideal of a democratic and free society, in which all persons live together in harmony and with equal opportunity. It is an ideal which I hope to live for and achieve. But, if needs be, my Lord, it is an ideal for which I am prepared to die".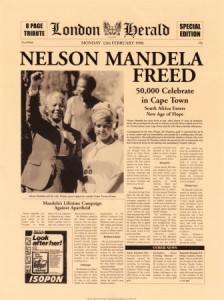 Whereas people around the world protested for Mandela to be freed, the Apartheid regime received support from Cold War allies, including Reagan and Thatcher. However, in 1986 the US Congress – after overriding Reagan's veto – imposed sanction  on South Africa. Only after Europe and Japan took similar action, Thatcher increased her pressure on South Africa accordingly.
In 1990 the ANC was unbanned and Mandela was released after 27 years in prison. Mandela negotiated with the Apartheid regime, led by the then President FW de Klerk, and was elected ANC President in 1991. Two years later, after the negotiations to bring an end to the Apartheid era had advanced, Mandela and de Klerk jointly received the Nobel Peace Prize. In April 1994, all South Africans voted for a new government and elected Mandela as their President who stayed in office until 1999.
Persuasion coupled with respect for friends and enemies alike – an art more powerful than any weapon – was the key to the reconciliation process. Mandela was aware that violence might lead to short term gains, but losses in the long term. Positive peace, that is absence of any form of covert and structural violence, could only be achieved by turning the new South Africa into non-zero sum game. Both sides had to gain and be satisfied with the outcome if future suppression was to be avoided. Mandela was aware that individuals, regardless of their background, have more in common than often assumed.
He used his presidency to lay the foundations for a peaceful future and thus his work was shaped by the reconciliation of black and white South Africans. The greatest danger to the newly won democracy was posed by right-wing terrorists who equated the loss of white power with fear and lack of safety. These fears were addressed by Mandela when he ensured the white population that they will be part of the new South Africa and the ANC rule would not turn into a new system of oppression with changed roles.
South Africa's reconciliation process rested on many pillars, some of which were of strong symbolic character. Mandela combined the former Afrikans National Anthem "Die Stem" with the song of the black protest rallies "Nkosi Sikelel' i Afrika" – God bless Africa  – and three more widely spoken official languages in South Africa. There was wide protest among the ANC's members, but Mandela emphasised the need for cooperation and harmony. A national anthem influenced by all groups of South Africa rather than just by one would be a significant contribution to unity.
One of the most pivotal moments was the Rugby World Cup in 1995 when the first black South African President wore a Springbok shirt and congratulated the South African rugby team to their victory. Rugby was dominated by white South Africans and the Springbok shirt was once considered by black South Africans as the incarnation of Apartheid. Mandela turned it into a symbol of reconciliation. When he handed over the cup to the team's captain, François Piennar, Mandela said: "Thank you for what you have done for our country." Pienaar, replied: "No, Mr President. Thank you for what you have done." The rainbow nation was born.
Of course much work had to be done and considering the high rate of poverty, HIV and crime many issues remain to be resolved. Thabo Mbeki and Jacob Zuma followed in Mandela's footstep, although neither of them reached Mandela's class. But it is not only up to Mandela's successors, but to every single South African to keep Mandela's legacy alive. The path to reconciliation and prosperity is long, but Mandela made the first steps and laid the foundation consisting of democracy and freedom – a legacy that puts him head and shoulder above any other leader of this time. Rest in Peace Madiba, thank you for making the world a better place. May your legacy live on.
_______________________________________________________________
Related articles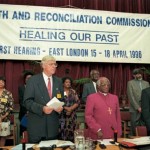 Are amnesties morally and legally justified?
The debate about the moral and legal implications of amnesties is probably as contested as no other topic in the field of conflict resolution. For academics the debate is first and foremost about legal and moral implications whereas…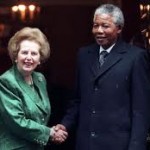 Margaret Thatcher's Carrot and Stick approach towards Apartheid
Margaret Thatcher stirred up sentiments among many in the UK, but her foreign policy characterised by the Falklands War, the fall of the Iron Curtain and the way she dealt with the South African Apartheid regime were no less controversial, …
Other articles in the categories Africa (Sub-Saharan), Peace Building and Reconciliation, Personalities