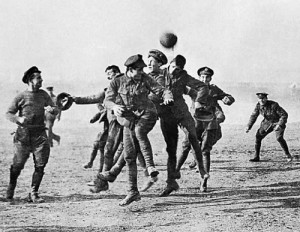 In 2014 we are going to celebrate the football world cup and we will also commemorate the start of World War I. And, of course, Christmas is coming up as well.
Admittedly, there seems to be a lack of connection between these events. December 1914, however, bore witness to an event that encompassed the border transcending enthusiasm for football, the devastating effects of war, the degree of agency that individuals possess to make peace and a time that is not only about presents and festive meals, but also about humanity and reflection.
When the war broke out in July 1914, men bid farewell to their loved ones, believing they would be back home for Christmas. Yet, on Christmas they still stuck in the cold, muddy trenches, not knowing if they would survive.  The trenches were in close proximity to each other and thus allowed soldiers from both sides to shout at each other or to hold up signs offending the enemy. Black humour between troops became a regular occurrence.
On 24 December – the day Christmas is celebrated in Germany – German soldiers began to sing carols and decorated their trenches with Christmas trees and began to sing Christmas carols in addition to which both sides exchanged Christmas wishes by shouting over the trenches. "Silent Night" by the Germans was met with "The First Noel" from the British trenches. On Christmas Eve and Christmas Day a miracle occurred: soldiers from both sides wandered into no man's land and did not only participate in burial ceremonies for soldiers fallen on both sides, but also exchanged gifts and played football against each other.
As I told you before our trenches are only 30 or 40 yards away from the Germans. This led to an exciting incident the other day. Our fellows have been in the habit of shouting across to the enemy and we used to get answers from them. We were told to get into conversation with them and this is what happened:-
From out trenches: "Good morning Fritz." (No answer).
"Good morning Fritz." (Still no answer).
"GOOD MORNING FRITZ."
From German trenches: "Good morning."
From our trench: "How are you?"
"All right."
"Come over here, Fritz."
"No. If I come I get shot."
"No you won't. Come on."
"No fear."
"Come and get some fags, Fritz."
"No. You come half way and I meet you."
"All right."
One of our fellows thereupon stuffed his pocket with fags and got over the trench.. The German got over his trench, and right enough they met half way and shook hands, Fritz taking the fags and giving cheese in exchange."
(Private H Scrutton, Essex Regiment, published in the Norfolk Chronicle on January 1, 1915)
 "On Christmas Eve the Germans entrenched opposite us began calling out to us 'Cigarettes', 'Pudding', 'A Happy Christmas' and 'English – means good', so two of our fellows climbed over the parapet of the trench and went towards the German trenches. Half-way they were met by four Germans, who said they would not shoot on Christmas Day if we did not. They gave our fellows cigars and a bottle of wine and were given a cake and cigarettes. When they came back I went out with some more of our fellows and we were met by about 30 Germans, who seemed to be very nice fellows. I got one of them to write his name and address on a postcard as a souvenir. All through the night we sang carols to them and they sang to us and one played 'God Save the King' on a mouth organ" (Rifleman C H Brazier, Queen's Westminsters, of Bishop's Stortford, published in The Hertfordshire Mercury, Saturday January 9, 1915).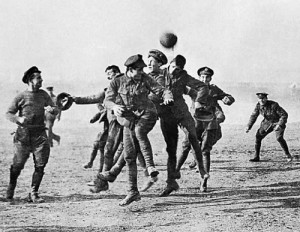 "During the early part of the morning the Germans started singing and shouting […] At 4 a.m part of their Band played some Christmas carols and "God save the King", and "Home Sweet Home." You could guess our feelings. Later on in the day they came towards us, and our chaps went out to meet them. Of course neither of us had any rifles. I shook hands with some of them, and they gave us cigarettes and cigars. We did not fire that day, and everything was so quiet that it seemed like a dream. We took advantage of the quiet day and brought our dead in." (Rifleman J. Reading published in Bucks Examiner, January 8, 1915)
It was probably just a matter of time until someone took a ball (or something that could serve as a ball) and, inspired by the space and freedom of no man's land, started to kick it around.
"I grabbed my binoculars and looking cautiously over the parapet saw the incredible sight of our soldiers exchanging cigarettes, schnapps and chocolate with the enemy. Later a Scottish soldier appeared with a football which seemed to come from nowhere and a few minutes later a real football match got underway." (Lieutenant Johannes Niemann, quoted in Regan, 1992)
"I should think there were a couple of hundred taking part. I had a go at the ball. I was pretty good then, at 19. Everybody seemed to be enjoying themselves. There was no sort of ill-will between us…. There was no referee and no score, no tally at all", (Ernie Williams of Territorial of 6/Cheshires)
Enmity and fraternity, bullets and presents, killing each other and sharing the passion for football – paradoxes that met in no man's land.  
Unfortunately, not every soldier welcomed the fraternization. This unofficial Christmas truce was strongly opposed by many of the military leadership. Fraternization with the enemy was strictly prohibited and fighting continued not long after Christmas.
A British Riflemen was quoted as saying to his newly won German acquaintance:
"Today we have peace. Tomorrow, you fight for your country, I fight for mine. Good luck."
Unfortunately, the war continued until 1918. No further Christmas Truce was reported, but the soldiers' attitude and behaviour towards the enemy emphasised their degree of agency – their agency to make peace and to share a sense of common brotherhood and humanity with individuals who tried to end their lives just a few hours before. The truce provided us with a legacy that represents both sides with a magical Christmas story in the midst of misery and death.
Related articles in the categories Europe, Peace Building and Reconciliation, Warfare